Captain Cruise Deal: Fly & Cruise Pakket Alaska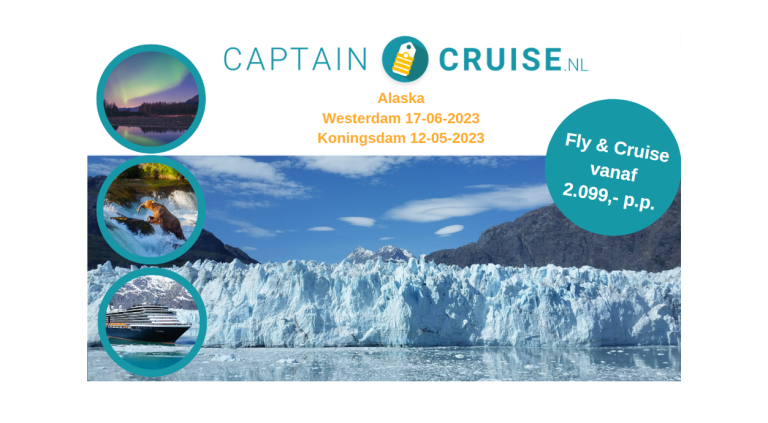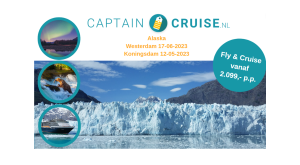 Holland America Line
Al ruim 150 jaar biedt Holland America Line (HAL) cruises aan over de gehele wereld. Holland America Line zorgt ervoor dat de gasten hun cruise als een stijlvol avontuur beleven. Om de reis helemaal tot een onvergetelijke ervaring te maken zijn de schepen van alle gemakken voorzien. U ervaart zelf het ultieme genieten op zee.
Dansen, dromen, ontspannen, enerveren, consumeren, verbazen. Onvergetelijke indrukken opdoen in een wereld die echt niet onbereikbaar is.
 Alaska
Bezoek Alaska met Holland America Line Westerdam en ontdek …
Glacier Bay betovert met helderblauwe ijsbergen, ruige kustlijnen en enorme ijsrivieren. Bij alle cruises naar Glacier Bay is er een ranger aan boord voor het wildlife te spotten en over te vertellen.
Juneau; Deze slaperige, mistige stad biedt talloze avonturen. Rijd 600 meter met de tram Mount Roberts omhoog voor een prachtig uitzicht.
Ketchican: Alaska is een van de beste plekken langs de Inside Passage van Alaska om de rijke culturele bezienswaardigheden van de Tlingit, Haida en Tsimshian te verkennen.
Skagway: Ga terug in de tijd naar de Klondike Gold Rush op cruises naar Skagway, Alaska, ooit de belangrijkste toegangspoort tot de goudvelden. Maak een excursie over de schilderachtige spoorweg en houd nog tijd over om te dineren en te winkelen.
Hoogtepunten:
✔ Totem village in Ketchikan Saxman Native Vilage.
✔ Spotten van walvissen
✔ Honden sleeën on a glacier

Inhoud pakket:
Inclusief:
✔ Hotelovernachting vooraf aan de cruise
✔ Vlucht vanaf Amsterdam
✔ Transfer luchthaven – hotel, hotel – schip en schip – luchthaven
✔ Havengelden en belastingen

Exclusief:
✔ Have It All Pakket van €315,- p.p. (optioneel bij te boeken)
✔ Verzekeringen en fooien
✔ Persoonlijke uitgaven: dranken, excursies etc.
✔ Calamiteitenfonds € 2,50, reserveringskosten € 25,- en SGR Bijdrage € 5,- p.p.
Vraag onze cruise experts naar de actuele beschikbaarheid en prijzen via email [email protected] of 088-5018501.
Prijzen onder voorbehoud van wijzigingen.