Al 150 jaar biedt Holland America Line (HAL) cruises aan over de gehele wereld. Holland America Line zorgt ervoor dat gasten hun cruise als een stijlvol avontuur beleven. Om de reis helemaal tot een onvergetelijke ervaring te maken zijn de schepen van alle gemakken voorzien. U ervaart zelf het ultieme genieten op zee.
Dansen, dromen, ontspannen, enerveren, consumeren, verbazen.
Onvergetelijke indrukken opdoen in een wereld die echt niet onbereikbaar is.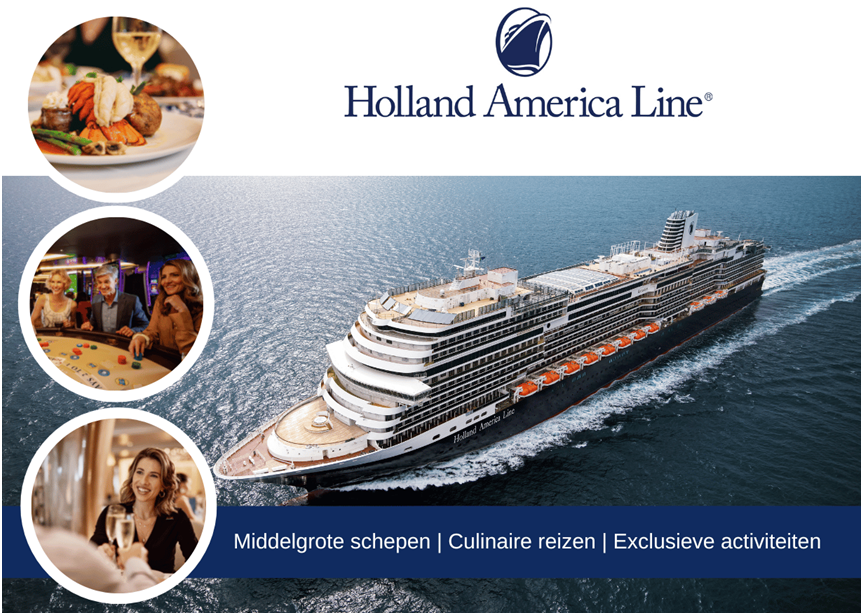 Zomer 2023 staat nog voor de deur maar vanwege enorme vraag naar cruises, succesvolle acties en nu al volle afvaarten, heeft Holland America Line de verkoop voor 2024 al geopend!
Had u net te laat geboekt, niet kunnen profiteren van de acties en de extra's of stuitte u op een volgeboekte cruise voor zomer 2023?
Wacht dan niet langer en plan nú alvast uw cruise voor zomer 2024 en profiteer van de vroegboekvoordelen welke Holland America Line nú al biedt op diverse afvaarten voor zomer 2024.
Boek uiterlijk 12 oktober 2023 een zomer 2024 tot voorjaar 2025 cruise en profiteer van verschillende voordelen!
Holland America Line kondigt voor diverse afvaarten zomer 2024 het Have it All pakket met geweldige upgrades aan.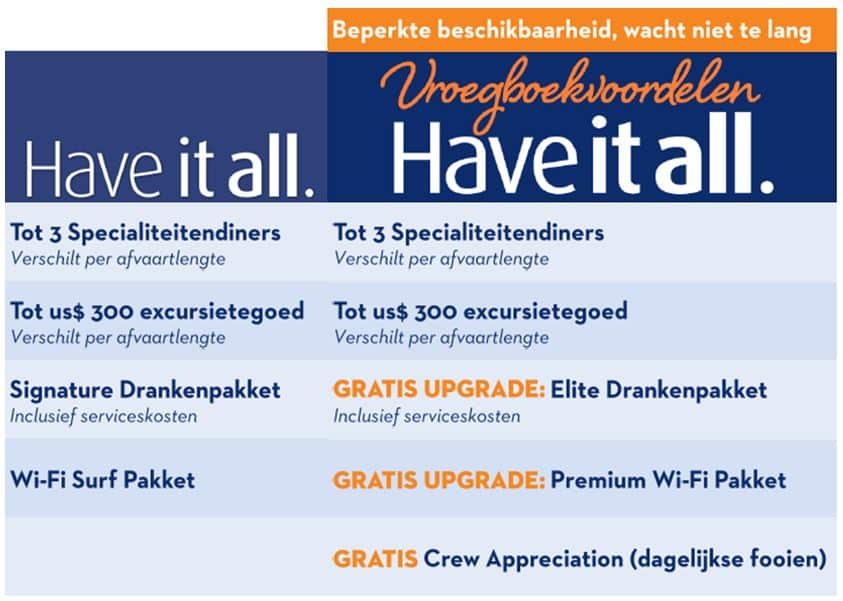 ✔ Krijg het Elite drankpakket, in plaats van Premium drankpakket
✔ Krijg het Premium Wifi pakket in plaats van Wifi surf pakket
✔ Fooien inclusief

Droomt u ook van een cruise naar de Noorse Fjorden?
Wat dacht u dan van één van de 21 afvaarten in de zomer van 2024 met de MS Rotterdam, met vertrek vanuit- en terug naar Rotterdam.
Of kies een afvaart op één van de andere mooie schepen, met vertrek vanuit Nederland: