Norwegian Cruise Line heeft het concept "Freestyle Cruising" uitgevonden. Dat maakt deze rederij perfect voor gasten die nergens aan vast willen zitten tijdens hun vakantie.
Zo kiest u bij deze rederij zelf waar, wanneer en met wie u dineert.
In de diverse restaurants is er dus geen vaste diner zitting en een meer ontspannen dresscode.
Het is bewezen erg populair te zijn bij onze gasten en het is alleen beschikbaar bij NCL.
Dit is uw moment om te zien hoe verschillend een cruise kan zijn.
Laat u verrassen en vaar mee met Norwegian Cruise Line!

————————————–
Of u nu gaat cruisen met uw gezin, met vrienden of met z'n 2en. NCL biedt verschillende cruises door Europa aan passend voor ieder wat wils.
Vertrek dit jaar nog en ontdek de schepen en bestemmingen van Norwegian Cruise Line.
Van deze korting wilt u hoe dan ook gebruik maken!
50% korting op cruises en tot wel € 300-. korting op vluchten met een Fly & Cruisepakket*.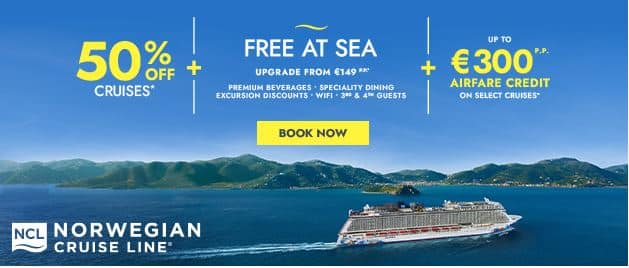 ---
Boek uw cruise bij Norwegian Cruise Line en profiteer nu van 50% korting op cruises van 3+ nachten.
NCL biedt ook nog eens tot wel € 300-. vluchttegoed aan. Zo vliegt u dus wel heel voordelig naar uw cruisebestemming!
Extra handig is dat de transfers dan gelijk inbegrepen zijn!
* Actie is geldig op geselecteerde afvaarten
————————————–
Wilt u helemaal genieten van een All inclusive gevoel tijdens uw cruise?
Boek dan het Free at Sea pakket éxtra voordelig bij en krijg niet 2, maar álle extra's:
Drankenpakket
Dineren in een specialiteiten restaurant
Excursie tegoed
Wi-Fi pakket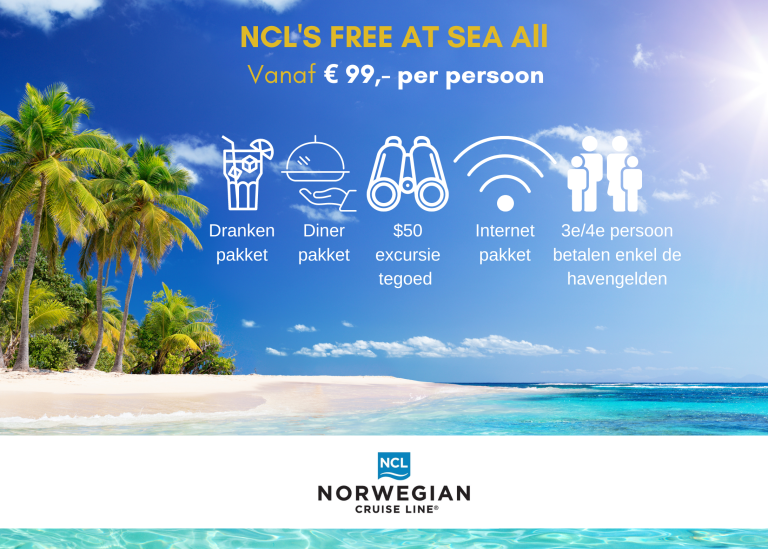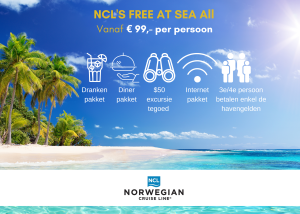 Boek

vóór 21 december 2023

 uw cruise met Norwegian Cruise Line en profiteer van deze actie!
* Genoemde prijzen zijn vanaf prijzen, gebaseerd op de voordeligste hut en voordeligste data. Daarom zijn genoemde prijzen onder voorbehoud van wijzigingen en beschikbaarheid.
* Prijzen zijn exclusief reserveringskosten à € 25.- calamiteitenfonds à € 2,50.- per reservering en SGR bijdrage à € 5.- per persoon.
Vraag naar de actuele voorwaarden, beschikbaarheid en prijzen bij onze cruise experts via [email protected] of 088-501 8 501